.
THE WORLD OF METROPOLIS CORPORATE FASCISM
.
By:
.
Robert Morningstar, Scott Teeters, Stephen Erdmann
.
SHOW ONE
SHOW TWO
.
.
"Last year, the FBI declassified more than 700 pages of tips and investigations into the possibility that Hitler survived the war. Included in the trove were hundreds of typed and handwritten notes to the FBI, government memos attempting to verify the claims, and J. Edgar Hoover's replies.
″'According to [retracted], he was one of the four men who met HITLER and his party when they landed from two submarines in Argentina approximately two and one-half weeks after the fall of Berlin,'" one report said, conveying descriptions of the heavily guarded ranch where Hitler, who had shaved off his mustache, was supposedly hiding out."
QUOTES FROM THE BELOW ARTICLE:
.
*******
*******
"Arthur Jensen: You have meddled with the primal forces of nature, Mr. Beale, and I won't have it!! Is that clear?! You think you've merely stopped a business deal. That is not the case. The Arabs have taken billions of dollars out of this country, and now they must put it back! It is ebb and flows, tidal gravity! It is an ecological balance!
"You are an old man who thinks in terms of nations and peoples. There are no nations. There is no p no West. There is only one holistic system of systems, one vast and immense, interwoven, interacting, multivariate, multinational dominion of dollars. Petro-dollars, electro-dollars

eoples. There are no Russians. There are no Arabs. There are no third worlds. There are

 multi-dollars, reichsmarks, rins, rubles, pounds, and shekels.
"It is the international system of currency which determines the totality of life on this planet. That is the natural order of things today. That is the atomic and subatomic and galactic structure of things today! And YOU have meddled with the primal forces of nature, and YOU WILL ATONE!
"Am I getting through to you, Mr. Beale?
"You get up on your little twenty-one-inch screen and howl about America and democracy. There is no America. There is no democracy. There is only IBM and ITT and AT&T and DuPont, Dow, Union Carbide, and Exxon. Those are the nations of the world today.
"What do you think the Russians talk about in their councils of state — Karl Marx? They get out their linear programming charts, statistical decision theories, minimax solutions, and compute the price-cost probabilities of their transactions and investments, just like we do.
"We no longer live in a world of nations and ideologies, Mr. Beale. The world is a college of corporations, inexorably determined by the immutable bylaws of business. The world is a business, Mr. Beale. It has been since man crawled out of the slime. And our children will live, Mr. Beale, to see that perfect world in which there's no war or famine, oppression or brutality — one vast and ecumenical holding company, for whom all men will work to serve a common profit, in which all men will hold a share of stock, all necessities provided, all anxieties tranquilized, all boredom amused.
"And I have chose

n you, Mr. Beale, to preach this evangel.
"Beale

: But why me?
"Jensen: Because you're on television, dummy. Sixty million people watch you every night of the week, Monday through Friday.
 

"Beale: I have seen the face of God."
*******
.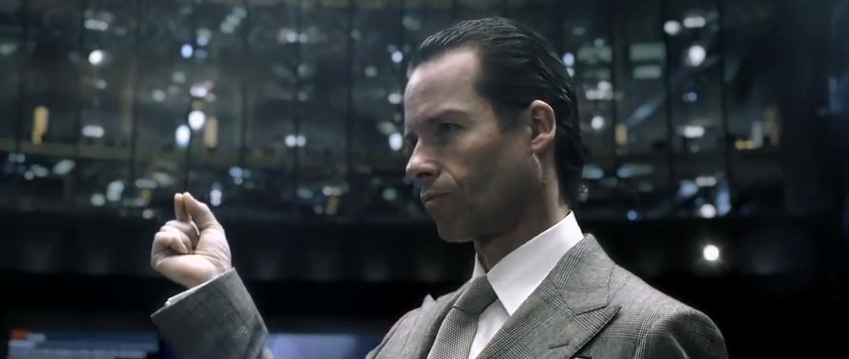 "'The obvious candidates to become the Big Evil — Google, Apple, Exxon — are actually the least likely. The ones that you should be really scared of are the corporations you don't see. Take Serco, an outsourcing conglomerate with 120,000 employees, which has been described by the Guardian as the 'biggest company you've never heard of.' Or the Industrial & Commercial Bank of China (ICBC), which has a market value of $215 billion, and tops Forbes' list of the world's biggest public companies.'
"'In fact, on that list, six of the top ten companies are banks, and the top three are all Chinese banks. If you're looking for a Roxxon or an Omnicorp, you'd make a good bet by picking a bank.'
"'The big, evil corporation might be someone like the BIS (Bank for International Settlements) – the banker's bank!' says Shedlock."
QUOTES FROM THE BELOW ARTICLE:
.
.
"At the same time as the west was planning its covert actions against its WWII ally, it also created the formation of the terror club known as NATO, the North Atlantic Treaty Organization. Almost in its entirety, it was a Nazi enterprise. Nazi General Reinhard Gehlen, for example, who had headed the Russia Desk in the Oberkommando der Wehrmacht (OKW – Hitler's Supreme Headquarters) and a consultant on the Final Solution, was secretly brought to the United States where he would deliver his vast storehouse of previously hidden files on the Soviet Union and then set up the Russia Desk for the soon-to-be-formed CIA. 
"Gehlen would then be returned to postwar Germany where he was put in position as head of Germany's new Bundesnachrichtendienst (BND), the German Secret Intelligence Service. In essence, two Russia desks (at least) now functioned instead of just one; both with the same ultimate aim: destroy the Soviet Union and communism.
"Hundreds if not thousands of old Nazis found new life working for the US, Britain, and Canada as the Cold War was cranked up and now the mass murderers were brought into policy making for the same Lords of the Manor who had supported Hitler, to begin with. And, with the same old Nazis back in charge, every foul means was employed against the Soviets to prevent any challenge of global capital's right to dictate the terms of enslavement."
QUOTES FROM THE BELOW ARTICLE:
.
*******
.
"But evidence of the existence of the Nazi Bell does not end with Sporrenberg. Many conspiracy theorists point to the paintings of the late 19th-Cen. artist, Charles A. A. Dellschau, as additional evidence of the Bell's earlier existence.
"Dellschau's images of the anti-gravity Bell might be an indication that German engineers had knowledge of the Bell long before it was actually deployed during World War II. Some even claim that Dellschau's Bell paintings are evidence that he was in contact with hyper-intelligent extraterrestrials with a pro-Nazi agenda.
"Dellschau painted highly detailed images of the craft prior to the Nazis' Bell project. The artist was a member of the cryptic 'German Sonora Aero Club Collective,' a group that constructed exploratory aircraft designs. Dellschau's craft was identical to what would soon be dubbed 'Die Glocke,' a.k.a the German Bell."
QUOTES FROM THE BELOW ARTICLE:
********
.

.
"The Horten Ho 229 was one of the most unusual combat aircraft tested during World War II. It may not have been a 'wonder weapon,' but it did mark the introduction by Reimar and Walter Horten of a noteworthy and longstanding concept: bell-shaped lift distribution. This concept is still being thoroughly studied and tested by aeronautics researchers.
"By working on the Horten Ho 299, the Hortens kept themselves away from the most dangerous aspect of the German war effort. They were under a strict deadline to get their new plane into the air, and working on it kept the Hortens and their employees off of the front lines, where thousands of their countrymen were dying."
QUOTES FROM THE BELOW ARTICLE:
.
********
.
.
.
"Nineteen forty proved an exceptionally good year for corporate America. Not only did the subsidiaries in Germany share in the spoils of Hitler's triumphs, but the European conflict was generating other wonderful opportunities. America herself was now preparing for a possible war, and from Washington orders for trucks, tanks, planes, and ships started rolling in. Moreover, initially on a strict "cash-and-carry" basis and then through "Lend-Lease," President Roosevelt allowed American industry to supply Great Britain with military hardware and other equipment, thus enabling brave little Albion to continue the war against Hitler indefinitely.
"By the end of 1940, all belligerent countries, as well as armed neutrals like the US itself, were being girded with weaponry cranked out by corporate America's factories, whether stateside, in Great Britain (where Ford et al., also had branch plants), or in Germany. It was a wonderful war indeed, and the longer it lasted, the better — from a corporate point of view.
"Corporate America neither wanted Hitler to lose this war nor to win it; instead they wanted this war to go on as long as possible. Henry Ford had initially refused to produce weapons for Great Britain, but now he changed his tune. According to his biographer, David Lanier Lewis, he 'Expressed the hope that neither the Allies nor the Axis would win [the war],' and he suggested that the US should supply both the Allies and the Axis powers with "the tools to keep on fighting until they both collapse.
"These technicalities, however, did not seem to perturb the owners and managers in Germany and even in the US, who were aware of what was going on overseas. All that mattered to them, clearly, was that unconditional collaboration with Hitler allowed them to make profits like never before; their motto might well have been: 'profits über Alles.' After the war, the capitalist masters and associates of the fascist monster distanced themselves à la Dr. Frankenstein from their creature and loudly proclaimed their preference for democratic forms of government. Today, most of our political leaders and our media want us to believe that 'free markets' — a euphemistic code word for capitalism — and democracy are Siamese twins. Even after World War II, however, capitalism, and especially American capitalism continued to collaborate cozily with fascist regimes in countries such as Spain, Portugal, Greece, and Chile, while supporting extreme-right movements, including death squads and terrorists, in Latin America, Africa, and elsewhere."
QUOTES FROM THE BELOW ARTICLE:
*******
.
Corporatism Is Not the Free Market
The U.S. ceased to be a free market a long time ago.
"By 'capitalism' most people mean neither the free market simpliciter nor the prevailing neomercantilist system simpliciter. Rather, what most people mean by 'capitalism' is this free-market system that currently prevails in the western world. In short, the term 'capitalism' as generally used conceals an assumption that the prevailing system is a free market. And since the prevailing system is, in fact, one of government favoritism toward business, the ordinary use of the term carries with it the assumption that the free market is government favoritism toward business."
QUOTE FROM THE BELOW ARTICLE:
*******
.

.
"All economic power and political power belongs to the corporations, whatever this term means. Power of multinational corporation lead existing postwar democracy regimes to become an empty shell. Corporations became not only powerful lobbyists and owners of most senators and representatives via contributions to the election complain,  but major insider players in the political establishment. Look at Goldman Sachs as an example of the merger of corporation and Washington establishment. Alumni of the corporation essentially dominate the Treasury Department.  This is something that no economic or political theory advocates in any way but this is the central reality of the USA today. As well as most other countries. Confrontation of interests of large multinational and states is presented as "state vs market" although large multinationals are as far from the concept of the free market as the state. That ideological trick weakens the position of the state. In other words, neoliberalism transforms classic corporatism in 'eocorporatism'.
"Military industrial complex in this sense is just another cartel of manufactures and related government agencies and politicians. After the WWI Corporatism became the most popular right-wing economic doctrine in Europe. And now hundred years later corporatism remain dominant political ideology and social system for the USA and most European states. Neoliberalism in this sense is just a late stage of corporatism that changes nothing in the dominance of large corporation both in the economic sphere and, by extension, in political life. It is just financial oligarchy that comes into forefront instead of traditional manufacturing and connected to its military-industrial complex. "
QUOTES FROM THE BELOW ARTICLE:
.
*******
.
Steve Erdmann, Investigative Journalist
.
********
.
You can friend him at:
You can also visit his articles at the following:
mewe.com/i/stephenerdmann1
.